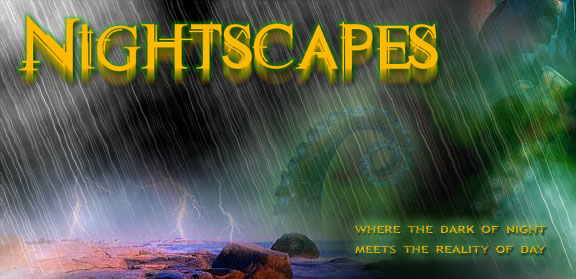 WELCOME TO NIGHTSCAPES # 15
DELTA GREEN: RULES OF ENGAGEMENT by John Tynes
THE WHISPERER #'s 3
SHOGGOTH CACCIATORE AND OTHER ELDRITCH ENTREES by Mark McLaughlin
CTHULHU AND THE COEDS edited by Tina L. Jens
SONG OF CTHULHU edited by Stephen Mark Rainey
BUFFY THE VAMPIRE SLAYER: SPIKE AND DRU by Christopher Golden, James Marsters, Ryan Sook, Eric Powell,


Drew Geraci, Keith Barnett, Andy Khun, Howard Shum, and Norman Lee
BUFFY THE VAMPIRE SLAYER: THE WISDOM OF WAR by Christopher Golden
THE GARDENS OF LUCULLUS by Richard L. Tierney and Glenn Rahman
SHARDS OF DARKNESS by E.P. Berglund
DAGON directed by Stuart Gordon
TALES OF THE LOVECRAFT COLLECTORS by Kenneth W. Faig, Jr.
DEAD BUT DREAMING edited by Kevin Ross and Keith Herber
THE H.P. LOVECRAFT TAROT by Daryl Hutchinson



---
DELTA GREEN: RULES OF ENGAGEMENT, by John Tynes. Cover photomontage by John Tynes. Seattle: Armitage House, 2000. 229 pages. $13.95 ISBN 1-887797-16-5.


Cover illustration © John Tynes.
[Reviewed by Peter A. Worthy]


I have previously read and enjoyed the work of John Tynes in his tales "The Second Effort" from Made in Goatswood, "The Nullity of Choice" from Singers of Strange Songs, and especially "The Dark Above" in the anthology Delta Green: Alien Intelligence. Having read his short fiction and finding it to my liking, I expected the same of this, his first novel.


To set things straight from the start -- this novel features characters from Tynes' "The Dark Above" and mostly from the sourcebooks Delta Green and Delta Green: Countdown. There is next to no Mythos content in the book. Delta Green: The Rules of Engagement -- as with Tynes' short fiction -- focuses on the characters, their interactions and environment. His work is a marriage of this and his no-nonsense style.


The plot starts off simply enough and builds up as the novel goes on, the characters becoming more and more fleshed out as you continue. This would tend to be my only complaint regarding the novel -- at times it can become a who's who of the Delta Green world without much of an anchor to include a characters involvement. In defense though, you could say the book represents a fictional interpretation of a Delta Green scenario which can be as simple or complicated as the GM sees fit.


Tynes takes us from a world of the familiar into strange territory without stumbling and breaking from his style. It is a tight story with plenty of action, but also lulls in the activity to let us look into the personal lives of investigators who all too often go to psychological hell in defense of an ideal.


The depictions of Captain Forrest James and Dr. Joseph Camp are the best in the whole book.


It isn't gripping reading, but it is entertaining. As a stepping stone for further novels or tales, it does all it needs to without suffering from information overload.



You may obtain this book from The Outsider.



RETURN TO TOP OF PAGE
---
THE WHISPERER # 3 (Autumn 2000), edited by Mike Mason. Bradwell Village, Milton Keynes, England: Severn Valley Press. 36 pages. £3.50 (UK) or £4.50 (outside UK).


Cover illustrations © Mark Smith and Shaun Appleby. Note: Both issues are the same size, the image for # 3 was the biggest we could find.
[Reviewed by Louise Hayes]


Support for Call of Cthulhu is no longer as regular as it once was, so the continuing arrival of this British fanzine is a welcome sight. Devoted to Call of Cthulhu, the Mythos CCG and all things Lovecraftian, this third issue is a Cthulhu by Gaslight special, the 1890s setting for the game.


The Whisperer is no different in appearance from many other fanzines. It is A4-sized, black and white throughout, with thirty-six pages and a cover on coloured stock. Most fanzines are let down by their art, or lack of it, and The Whisperer is no different. Previous issues have surprised in the quality of the art, but the artwork in this issue is too cartoon-like. It is clear that the editor is working to improve the layout and whilst it is a little too tight in places, his efforts should be applauded.


And so to the contents . . . The Whisperer has already provided material for Cthulhu by Gaslight in the first two issues, with Garrie Hall's 'A Once And Future King,' a two-part sequel to Pagan Publishing's The Golden Dawn supplement, but with this issue it is primarily all for the straight 1890s setting.


Andy Bennison's 'The Adventure of the Curious Curate' is the issue's only scenario. Set in a tiny West Country hamlet, the investigators are tasked to discover the wayward behaviour of a young priest. This captures the feel of a small English village rather well and could serve as a decent introduction to Cthulhu by Gaslight. It would work best with fewer players and the author should have offered an alternative method of involving the players other than as Consulting Detectives.


Of the four adventure seeds, two stand out. Rik Kershaw-Moore gives a new slant upon an old favourite with 'Jack the Ripper . . . What If?,' which is not as bad as I thought it could have been. To run this would require a fair amount of work upon the Keeper's part, but it is an interesting idea nonetheless. Less work would be needed to run Brian M. Sammon's 'Tiger, Tiger, Burning Bright,' which offers three solutions to a deadly weekend in the country.


'The Club of Queer Trades' is a new column detailing new occupations and Rik Kershaw-Moore gives us three very working class professions. Whiskers swept the streets clear of horse dung so that those of higher classes could cross the streets cleanly; Dredgermen trawled the banks of the Thames for the bounty they could find on refuse and corpses; and Troshers, who scavenged London's sewers for meagre pickings, may have links to the city's Ghoul population. These are well written and an example of each is provided for use as an NPC.


Outside of the actual RPG, The Whisperer gives a history of the French Foreign legion from its creation until 1939, an interesting but inconclusive article on the Mythos in Dr. Who and interviews with Lynn Willis of Chaosium and the creators of a new Cthulhu computer game. The magazine is rounded out with a selection of reviews (some of which I wrote, so I am biased
. . .)


If an editor is prepared to keep publishing and has access to some decent writers, a fanzine should always get better and The Whisperer is no exception to this. Whilst this issue is dedicated to the 1890s, most of its contents can as easily be updated to the 1920s, but with support for Cthulhu by Gaslight thin on the ground, the material herein deserves to be used for that setting. This is the best issue yet, and although it is not a 'must-have' item for 1920s and modern campaigns (Keepers for Cthulhu by Gaslight though, should snap this up), the quality of the contents makes it worth every penny. The next issue is a Dreamlands special and hopefully will be as good as this one.



You may obtain these fanzines from Starry Wisdom and # 4 can be obtained from Wizard's Attic.



RETURN TO TOP OF PAGE
---
SHOGGOTH CACCIATORE AND OTHER ELDRITCH ENTREES, by Mark McLaughlin. Introduction by Simon Clark. Cover and interior artwork by Colleen Crary. North Webster, IN: Delirium Books, 2000. 76 pages. $5.00 ISBN 1-929653-11-5.


Cover illustration © Colleen Crary.
[Reviewed by James Ambuehl]


"Truly it is a merciful fact that humankind has abundant difficulty discerning its fecal egress orifice from a perforation in the surface of the earth's crust."


So run the opening lines of "The Brouhaha of Cat-Hula," and though it aptly points out that we indeed do not know our ass from a hole in the ground, we do however know what we like. We like to laugh, of course. And since Lovecraftian themes tempered with humor is still a relatively unexplored field -- the recent Cthulhu and the Coeds anthology being the only other of this kind that automatically springs to mind -- this should prove an interesting read. And I confess, I have not read any of McLaughlin's work before now. Let's dig in, shall we, and scarf down the entree before the meal arives.


Well, the booklet has a beautiful full-color cover. And at 10 stories packed in 73 pages of fairly smallish type, it's already a bargain at only $5. This dining experience looks to be a pleasant one. And it's been recommended by Simon Clark (he did the Introduction), himself touted as one of horror's most original writers since Ramsey Campbell himself! Ah, here comes the first entree now.


Ah, we lead off with the "Shoggoth Cacciatore," and it was delicious! This story was that rare breed of science fictional Mythos story with the premise of a galactic restaurant serviced by robots. "You are what you eat" is definitely the moral of this story. But I am still quite hungry, so let's nibble on some more, shall we?


"Squidd, Inc." seemed a little underdone, unfortunately. I didn't find it too flavorful myself, but if you enjoyed William Browing Spencer's Resumé With Monsters then you'll probably get more out of this tale of corporate office politics taken to the extreme.


"The Slithering Quiver of the River Lizard's Twisted Liver-Blisters" is a near-masterpiece of hilarity; Dunsany meets Lin Carter by way of Mel Brooks! Aside from a story of mine entitled "The Forgtten God," I don't think I've ever read a satirical Dreamlands story before, and such a setting seems rife, even teeming with laughter. So far, the best story in the collection.


"Spawn of the Rancid Deepnesses" at only two pages, is short but cute. Mostly inconsequential, but good for a few laughs, at least.


"Anecdote Overheard at the Last Cocktail Party Ever" is another morsel, an inconsequential two-pager, but it does contain some nice imagery . . . especially that of a hungry malevolent moon.


"Finesse" was not really very humorous, but lovely all the same. A "holier-than-thou" performance artist gets her just desserts.


"The End of the World is Brought to You By --" is a nice little collection of set pieces somewhat reminsicent of my own "Finding God(s)." They're also segments based on old TV shows and the Gilligan's Island one reminds me of the similar playscript I did with Art Breach aeons ago entitled "Cthulhu's Island." You know, I really am liking this guy's work as I'm thinking I'm seeing a kindred spirit.


"She's Got the Look" is an instant classic, mostly serious and even better than "River Lizard." Another good title for it would have been: "Beware the Super-Models of Doom!"


"Super Digital Nekronomi Pals are Zing!" is the Mythos crossed with Pokemon, apparently. Is nothing sacred, I ask; I, who have done Mythos tales utilizing the Spice Girls, Gilligan's Island, and even Beavis and Butt-Head! Ah, but the ending is truly golden.


"The Brouhaha of Cat-Hula" is the icing on the cake, the ichor on the freshly picked clean skull, the -- now Mark's got me doing it! Anyway, catlovers especially will not be able to resist its charm; and it sends HPL up perfectly. This take on "The Call of Cthulhu" is a fitting end to an excellent collection.


So, all in all, Shoggoth Cacciatore was a tasty treat indeed! My compliments to the chef! Unreservedly recommended!



RETURN TO TOP OF PAGE
---
CTHULHU AND THE COEDS: KIDS & SQUIDS, edited by Tina L. Jens. Cover by Rick Therrio. Chicago: Twilight Tales/11th Hour Productions, 2000. 188 pages. No price listed (available for $15.00 from Mythos Books).


Cover illustration © Rick Therrio.
[Reviewed by Michael Tice]

Overview


"If the Mythos mob is going to make it into the new millennium, they're going to have to learn to laugh at themselves . . . or we'll do it for them!" So reads a portion of the back cover blurb of this collection of eighteen Mythos stories and poems for the new age. This seems to promise a humorous look at Lovecraft's creations, although some of the stories are straight Mythos fiction (or, at least, humor is not their solitary goal). Sadly, this collection falls dreadfully short in the amusement department, humorous or otherwise. Notably, some authors seem to consider the words 'humorous' and 'stupid' to be synonymous. I have heard that 95% of the world population believes that their sense of humor is above average. I fear that a few of the authors represented in this anthology belong to the deluded 45%.


Looking at the copyright notices, it seems that, for the most part, what is original is not good and what is good is not original.


In short, don't get suckered by this tentacled horror.

The Finer Points


Most of the failed stories suffer from the author's ignorance of the dictum, "Brevity is the soul of wit." I will try to be brief in my criticisms, while bestowing plenty of praise where it's due.


The book has cover art and a nice cartoon by Rick Therrio.



"A God in Aspect" by Joseph Reed Hayes. Nyarlathotep is scared by a phone ringing, Cthulhu wants a hat. Yawn.

"A Boy and his God" by Charles Stross. This story explores the idea of keeping a Mythos deity as a pet. Set in a potentially interesting alternate Earth, and incorporating a clever teen romance, this story is quite pleasing. If it were edited down from 17 pages to 10, I would like it even better. Faint praise, I know, but this is one of the stand-out stories from the collection. A previously published story.

"The Crawling Pit" by Tim Curran. Mobsters keep a Mythos deity as a pet. Like many of the entries in the anthology, this short is not really intended (I assume) to be humorous, but it *is* a decent little vignette of Mythos fiction.

"In Arkham" by Edward DeGeorge. A short, non-humorous poem about Arkham. It is agreeable, but suffers from some forced rhymes and scansion problems that annoy the frustrated poet in me.

"The Scrimshaw Museum" by Martin Mundt. The first three or four pages of this story had me hooked. Here, I thought, was the start of not just a Mythos story, but a truly Lovecraftian story. Then, the protagonist reaches the titular museum and there is a bit of broad comedy that destroys the developing mood. The remainder of the story is deliciously twisted and over-the-top gruesome.


This has the potential for excellence. Remove or tone down the silliness, and perhaps make the ending a bit more subtle, and this would be a winner. As it stands, I still found it enjoyable.

"Educating Gil", by Jerry Gilio. A cute idea. Gil Fishman has been enrolled in a Catholic elementary school, and the story consists of letters from the administration to the parents. Once again, a single idea (in this case, a good one) is milked for so long it becomes rather thin.

"Billy-Raybob's Bad Idea", by J. Chip Howell. A story predicated on the theory that stereotypes of poor white trash and homosexuals are inherently funny.

"In the Garden Apartment of Madness" by John Weagly. What do you know? This story explores the idea of keeping a Mythos deity as a pet. Not a bad story, and I particuarly liked the prosaic dreams interspersed with the Mythos-inspired dreams suffered by the protagonist. Another overlong story, but perhaps it wore out its welcome faster, because of the similar stories in the collection.

"Squidd, Inc." by Mark McLaughlin. Climbing the Corporate Ladder, Cthulhu-style. It didn't make me laugh out loud (not that anything in the anthology did) but at four pages, this story is the right length to explore this whimsical idea without becoming stale. A previously published story.

"The Cthulhu Orthodontist" by Richard J. Chwedyk


Eleven pages to tell us that, if Hollywood were to make an adaptation of "The Call of Cthulhu," it would bear little resemblance to H.P. Lovecraft's story. Some of the details of exactly how hideously unfaithful the adaptation would be are amusing, but on the whole this fiction is the ghastly truth that we all live with. I guess that makes it authentically horrific in a way.


Illustrated competently by the author, who must have a thing for coeds clasped by Cthulhu.

"The Diary of Howard Clark Long Phillips", by Bryce Stevens. A three page parody of Lovecraft's madly scribbling protagonists. If I may appropriate the ending for my own use: "I can... not... possibly wr.i.t.e an.. ymo... r...... e......." A previously published story.

"Not Your Average Alleyway Magic Squid", by Bill Breedlove. How about that? A guy finds a Mythos critter "in the Asian section of the city," befriends it and takes it home! Later, it causes calamities in the workplace, because the protagonist ignores the warnings of two inscrutable Asians. Even had I read this "pet" story before the others, I wouldn't have had much favorable to say about it.

"Leo", by Jo Fletcher. A poem considering the astrological significance of Cthulhu being a Leo. It has occasional worrisome scansion problems, and is not terribly amusing, though perhaps it would appeal more to people who consider astrology to be anything more than arrant nonsense.

"The Old Ones Have Old Ways", by Simon Logan. A neat alternate world of skatepunks in a Mythos dominated world, but the fun density in this twelve page story is sadly low.

"Cthulhu Stirred", by Thomas Veltri. R'lyeh is in the South Bronx. Cthulhu wakes and faces some crackhead gangbangers. The story contains a lame and irrelevant pun.

"God Screamed and Screamed, Then I Ate Him", by Lawrence P. Santoro. Twenty-two pages. An ignorant bum gets mixed up in some heavy Mythos goings-on. The story is told as interleaved narration and flashbacks, and this complicated structure is sometimes clumsily handled. Santoro's prose is littered with metaphors and similes. Some are good, some are bad, but the sheer mass of them is somewhat astonishing in places. That having been said, there might be a good Mythos story buried in here if it were retold more simply, briefly and chronologically. Not a humorous story.

"Reveille", by Stephen Dedman. R'lyeh is in another unexpected spot. A one joke story presented at an appropriate length -- just over a page.

"Love's Eldritch Ichor", by Esther M. Friesner. There's an old joke about a person who wears uncomfortable shoes "because it feels so good when I take them off." This story is the much-needed relief from the rest of the anthology. I first read it in Cthulhu 2000, but it still has its charm. Clocking in at 23 pages, it is the longest entry, but I assure you, some of the others *seem* much longer.




The most merciful thing in the world, I think, is the fact that there are only 250 copies of Cthulhu and the Coeds.



You may obtain this book from Twilight Tales. Two of the stories are online there.



RETURN TO TOP OF PAGE
---
SONG OF CTHULHU edited by Stephen Mark Rainey. Cover by Harry Fassl; interior art by Dave Carson. Oakland: Chaosium Books, 2001. xv, 213 pages. $13.95 ISBN 1-56882-117-4.


Cover illustration © Harry Fassl.
[Reviewed by Peter A. Worthy]


Subtitled "Tales of the Spheres Beyond Sound," the anthology is graced with a wonderful piece of work from H.E. Fassl who has been producing some excellent eye-catching imagery for Chaosium's Call of Cthulhu Fiction line. Interior art comes as normal from the similarly gifted imagination of Dave Carson. However, there is one difference with this title from most of the rest of the series -- that of a change of editor. Stephen Mark Rainey exercises his editorial judgment in this collection rather than Robert M. Price, the Yog-Sothoth of Lovecraftian anthologies. Both are capable editors and I assume that with Rainey's experience of writing tales centered on musically called upon creatures from outer spheres is why he was given this volume to bring into being.


As with any theme-anthology, there is the central piece that embodies the essence of the volume and here it is H.P. Lovecraft's "The Music of Erich Zann." I know a lot of people complain about the overlap created in their collections with the reprinting of HPL material, but as an editor you cannot rely solely upon purchasers being familiar with the genre -- there is always the chance of a single casual purchaser and so the founding tale should really be included. And to be quite frank, I can't think of a tale that deserves to get more airing than this jewel in Lovecraft's crown; a masterpiece of the outré.


The contributions opening chords come from Thomas Ligotti, oddly enough in an article rather than the expected fiction. I think this is my main complaint with this book. I pick up what purports to be a volume of fiction and then find one of the contributions isn't a story at all. "The Dark Beauty of Unheard Horrors" wasn't an article I enjoyed and I feel let down with it being here, almost as if meant to lure fans of Ligotti to pick up this book with what they'll think is a brand new tale.


As for the rest of the anthology, it shows Rainey's excellent choices. "In the Rue d'Auseil" by Fred Chappell exhibits his unique grasp of language; drawing you into the story but then abruptly ending. "The Plain of Sound" by Ramsey Cambpell will be very familiar to most collectors, being among the tales in his collection Cold Print. Still, it is a great tale and deserves a showing here (and certainly isn't as jarring an inclusion as his "The Church in High Street" was in Shadows Over Innsmouth). I was also pleased to see that Rainey showed good prudence in presenting for his offering "The Last Show at Verdi's Supper Club," rather than "Threnody," which has appeared in many magazines and anthologies already.


"Water Music for the Tillers of Soil" is an intricate and verbally unearthly piece from Tom Piccirilli whose poetry you may be more familiar with. "Shallow Fathoms" by M. Christian is a tale of youthful discovery and not just of the birds and the bees. Gregory Nicoll presents one of the strongest tales in the volume with "How Nyarlathotep Rocked Our World," an uncomplicated and very pleasing tale of the Crawling Chaos helping us to destroy ourselves. "Listen" by James Robert Smith is short and unsatisfactory, which is a shame with his strong contributions previously. Brian McNaughton's "Mud" is, I feel, the most rewarding read in the book. His use of language and description is second to none and his imagination is extremely vivid, especially here. "Paedomorphosis" from Caitlin R. Kiernan shows great promise on the skills of this contributor. Hugh B. Cave also shows that at 92 he can still weave a first-rate story with "Intruders."


"Chant" by Robert Weinberg is a delightful twist on those adverts for CDs of Gregorian chants. It shows a wry sense of humor and wonderful imagination. Bob Price isn't to be forgotten with his own professional contribution, "Ghoul's Tale," a narrative from the Necronomicon reintroducing Abdul Alhazred and Ibn Ghazoul, the apprentice who sealed the doom of Yakthoob. "The Next Big Thing" from Rob Suggs is a competent tale, well executed, but left me feeling flat. Edward P. Berglund makes a welcome re-appearance in the realms of fiction with "The Flautists," another strong showing in this volume.


"Fall from Grace" by D.F. Lewis is an unusual short tale of a tourist trip to the Channel Islands. William R. Trotter presents us with "Drums," a well-crafted and superb tale that could almost be a tale for the Delta Green universe; a tale of an uprising in Kuala Lumpur and the quelling forces horrific discoveries in the jungle. E.A. Lustig's "The Enchanting of Lila Wood" is a change of locale but not a change of quality with a slowly building tale of not letting sleeping gods lie. Thomas F. Montelone rounds out the volume with his first-rate, "Yog-Sothoth, Superstar," a tale that could all too easily "gone south" on any author, but slickly handled by Montelone.


Song of Cthulhu is a well-built anthology and one certainly deserving of shelf-space.



[Reviewed by John Goodrich]


Just so the reader is aware, I intern for Chaosium, although I don't think that this biases my review. I know a good anthology when I read one.


I buy collections of Mythos stories religiously. The book case in my small study is stuffed with Arkham House collections, Fedogan and Bremer anthologies, and all the Mythos fiction Chaosium has yet published. In this, I suspect, I am not exactly alone.


It has also been my experience that with the resurgence of interest in Lovecraft and his imitators, there has been something of a scramble to find printable material for anthologies. James Wade's "Those Who Wait," included in Robert Price's The New Lovecraft Circle, was previously published in the fanzine The Dark Brotherhood Journal in 1972. While the obscurity of its previous publication should in no way prejudice us toward a story, this does serve as an example of how far afield editors must often search for a halfway-decent Mythos tale.


Chaosium's Song of Cthulhu, edited by Steven Mark Rainey, presents us with a good mix of old and new stories that may very well be the best Mythos anthology I have seen in five years or more. For while our usual anthologists are very dedicated to the Mythos, quite often they do not have many contacts in the greater world of horror fiction. Mr. Rainey, who edited Deathrealm for ten years, seems able to call upon a broader base of writers.


The linking thread of the anthology is the Mythos set to music. From Erich Zann's daemonic viol to the hard rocking sound of Dew, and even a touch of the Great White Way, Song of Cthulhu offers us the musical world with Yog-Sothoth as our tour guide.


I'd like to hold a few of these stories up to aspiring Mythos authors as good examples of how to write a good Mythos story. Far too often, eager young boys, we Mythos authors go straight for the good stuff -- a hint of something inhuman on the first page or a Lovecraftian name dropped. But this lack of confidence is exactly the opposite of what made Lovecraft's fiction so effective at evoking mood. Lovecraft lingered over setting, immersing us in experience as true as he could make it, painting the reader lush word-pictures of witch-haunted Arkham, inbred Dunwich, and unnatural Innsmouth. William Trotter's "Drums" is an excellent example of how a Mythos story can be structured for good, creepy effect. Trotter takes his time, showing us his setting, and letting us get to know his characters. And subtly, the unnatural comes sneaking in on silent cat's feet, all the more horrible for being a wrong note in this sane, well-established setting.


Brian McNaughton's "Mud" gives us less setting, instead relying on strong and unexpected characters to keep our interest. In this he succeeds admirably, using the comsic horror of Lovecraft's creations to overshadow any of the small evils that men do. Robert Weinberg's "Chant" invokes fear that is coldly intellectual, sending us a moment of frission with its expected, but nevertheless powerful ending.


While I won't say that every story in the book is excellent, the book's average is decidedly better than that of any other collection of Mythos stories I have seen for a while. At best, these stories follow the dictum that a good Mythos story doesn't use the Mythos as a prop, but rather incorporates elements of Lovecraftian horror to tell an interesting story.



[Reviewed by Steven Kaye]


It's a bit odd, reviewing an anthology that was assembled several years ago and only recently published. After all, even if a particular story isn't that good, one has to assume that the author's improved his or her craft. Then again, the editor of this collection is Stephen Mark Rainey, the publisher of the legendary Deathrealms, and a man one assumes knows what good horror fiction is. And with that bit of equivocation over with, on with the show.


In his introduction, Rainey talks about obscure Mexican B-movies, his reading of "The Music of Erich Zann," his story "Threnody," the ability of music to touch the soul of the reader and the affinities of music and the written word.


First up is Lovecraft's "The Music of Erich Zann." This story was one of Lovecraft's favorites, as he would indicate to people asking which of his own stories he enjoyed the most. Lovecraft really felt that he'd managed to capture a weird atmosphere without being overly explicit, though some have felt that he erred in the opposite direction. For those who haven't read the story, I'll only note that it involves a mute musician, his eerie tunes, and the uncanny fate that befalls him when he succumbs to the temptation to perform for an audience. One item I noticed on reading this story was Zann's description as having a "grotesque, satyr-like face." Given Lovecraft's knowledge of classical mythology, I wonder if he didn't have the myth of Marsyas in mind.


Marsyas was a satyr, half-goat and half-man, who came upon a set of double pipes discarded by the goddess Athena. She had felt that she looked ridiculous puffing out her cheeks as she played the instrument. Marsyas took up playing the pipes, and challenged Apollo to a musical contest. Marsyas would pit his pipe-playing against Apollo's skill with the lute. Given Apollo's role as god of music, you can guess the end of this tale. Having agreed that the winner of the contest could do whatever he wanted with the loser, Marsyas was doubtless discommoded to find himself being flayed alive by the god. If the parallel with the myth is intentional, at least part of the mystery of Zann's fate is revealed. He was guilty of the classical sin of hubris, overbearing pride.


"The Dark Beauty of Unheard Horrors" is an essay by Thomas Ligotti on "The Music of Erich Zann," focusing on why the story is so effective. While Ligotti's prose is gorgeous, his argument boils down to "'Zann' is effective because it leaves so much unexplained and unseen." True, but not especially surprising or insightful.


Fred Chappell composed a sequel to "The Music of Erich Zann," "In the Rue d'Auseil," which is oddly reminiscent of Ligotti in its elaborate prose and detached voice. There is even a set of automata at the center of the tale. I was fortunate enough to hear Chappell read this at the 1999 NecronomiCon, but even on the printed page this is one of the best pieces in the anthology.


Ramsey Campbell's "The Plain of Sound" owes a debt to Arthur Machen, with its reference to the Mao Rite. A number of college students come across the journal of a missing university professor and decide to carry on his experiments, with predictably unfortunate results. To be honest, Tony seems like a raving psychotic, urging the others to use a weapon on the inhabitants of the Gulf of S'glhuo, and I'm not especially distraught that he goes mad in italics yet! upon seeing what his weapon has evoked in the Gulf.


Our humble editor contributes "The Last Show at Verdi's Supper Club," a well-told story about a musician and the deal he made a long time ago. It reminded me of Karl Edward Wagner's "Hello Darkness My Old Friend," which also concerned an artist and his Faustian bargain. Rainey played guitar (I don't know if he still does), and that experience serves him in good stead as he describes the awful consequences of playing "the Zann fugue."


Tom Piccirilli's "Water Music for the Tillers of Soil," like his Self stories, features a protagonist consumed by self-loathing and questions of faith. The title works on several levels -- the phrase "tiller of soil" is used to describe Noah after the flood, which makes the "water music" doubly appropriate. Cain, the first murderer, is also described as a tiller of soil. The Maestro composes music to the gods of the deep to save the Earth. (Past? Future? Who knows?) Piccirilli's sentences roll over the reader like crashing waves with their multiple clauses, towards the apocalyptic conclusion. The names of the "royals" are taken from various myths and stories about the sea and sailors, from Valeria (the Roman name for one of the Gorgons, daughters of the sea-god Phorcys) to Tien Hou (a Chinese spirit who rescued those lost at sea).


"Shallow Fathoms" isn't really music- (or even sound-) related, dealing with a caretaker at an asylum and the unusual fish shop he encounters. It is a creepy tale, and I have to admit I didn't see the payoff in advance.


I can't say the same for Greg Nicoll's "How Nyarlathotep Rocked Our World." The one joke of this story is that Nyarlathotep appears, doesn't even disguise his name, and these stupid rockers do everything he tells them to do. Prose like "And from the moment he arrived, I felt a disturbance in the Force, planets accelerating in their orbits, and the sense that whatever we were, all we had ever been -- and everything we ever would be -- were all about to change. Nyarlathotep was that kind of person." doesn't help.


James Robert Smith's "Listen" is in the format of a journal,, with dates given for various episodes though I'm not sure why. The narrator tells us about a strange old man in a nearby house and the horrible story he's forced to hear, a story with unpleasant consequences. While I guessed the payoff, the story is well-told if formulaic.


Brian McNaughton's "Mud" deals with the experiences of a contingent of wounded World War I soldiers, led by a composer, at a curious cathedral. My favorite part of this story is the explanation of Mud as a force ruling all, like Leiber's "The Black Gondolier" or "The Man Who Made Friends With Electricity." Occasional touches of black humor, such as the encounter with the Graf von der Hiedlerheim, add to the enjoyment of this story.


Caitlin Kiernan's "Paedomorphosis" reminds me somewhat of her Silk, in that it deals with an Athens, Georgia rock band. There are also the elements of transformation and an aquatic theme, as per "Tears Times Seven Salt" and the compound words of much of her fiction ("ankletwist," for example). The ending's no surprise (especially if you look up the definition of the title), but especially once Elise and Annie explore the basements the prose makes for an enjoyable ride there. For readers who don't mind having the surprise ruined, a definition of 'paedomorphosis' is at ???.


"Intruders" is a straightforward tale of a widow haunted by the ghost of her predecessor, with some interesting twists. The musical tie-in is Bartók's "The Miraculous Mandarin," which plays whenever the ghost appears. An appropriate choice, as the ballet tells the story of a prostitute who lures men up to her room where they are murdered. The end reveals the Mythos tie-in, in a brief reference which makes one wonder just how wrong the widow's husband was.


Robert Weinberg's "Chant" has a writer at a loss for ideas seeking inspiration from a very strange infomercial. The ironic counterpoint between the clichés evoked by the narrator and the "true story" works well, even if this is another example of a predictable ending. The results of the narrator's web searching are also amusing.


"Ghoul's Tale" is a Robert Price tale, purporting to be another episode of Alhazred's life from the Dee version of the Necronomicon. Why Price thinks we want a pastiche of a Lin Carter story is beyond me. Abdul Alhazred encounters a supernatural menace, Abdul Alhazred outwits it in a predictable fashion. Complete with authentic "ye olde English" prose. Bleah.


Rob Suggs' "The Next Big Thing" has an interesting speculation on the history of music, with Nyarlathotep working his schemes through the centuries culminating in a Woodstock-like event in Arkham.


Paul Berglund's "The Flautists" is a by-the-book supernatural revenge story. A music journalist writes a negative review, he gets invited to a special performance by the band's manager, a "Mr. Dexter" with glowing red eyes. Wacky hijinks follow.


D.F. Lewis' "Fall From Grace" telegraphs the Mythos presence from the beginning, with an odd tour of the Channel Islands and a transformation of the protagonist that seems rather arbitrary.


"Drums" takes the idea of the Tcho-Tchos being in Malaysia (cf. T.E.D. Klein's "Black Man With a Horn"). Trotter does a great job detailing the history of Malaysia, from fighting against the Japanese in World War II to the Emergency and British involvement. Servitude is a theme developed in an interesting manner, from the Gurkhas who serve in the British armed forces to the Japanese attempts to make the Tcho-Tcho work for them (and the revelation of who was truly the master in that relationship). The only elements marring the story are the unintentionally hilarious image of Tcho-Tcho riding giant leeches and the fact that at bottom it's another "people encounter a new Great Old One, several of them get killed, the survivors are sadder but wiser" plot.


E.A. Lustig's "The Enchanting of Lila Woods" is another example of a tale that's well-told but ultimately formulaic. I did like the characterization of Maeve McKiernan (name Irish enough for you?) and the other people at Arkham House -- it's not often you see servants of the Great Old Ones developed into real sympathetic characters, so this was a nice change.


"Yog-Sothoth, Superstar" is a joky story about the progress of the musical Lovecraft in Love and its disastrous consequences on cast members, critics, and eventually most of the population of Manhattan. It's more ambitious formally than many Mythos tales, incorporating excerpts from songbooks, letter, memos, answering machine messages, et. al.


Overall I'd say this is a good but not great anthology. Several of the tales have formulaic plots, not always overcome by prose style and characterization. This might be one to check out at the library or used bookstores. Comments, questions, peasants with torches?



You may obtain this book from Amazon.com, Amazon.co.uk, Amazon.de..



RETURN TO TOP OF PAGE
---
BUFFY THE VAMPIRE SLAYER: SPIKE AND DRU, written by Christopher Golden and James Marsters; penciled by Ryan Sook and Eric Powell; and inked by Drew Geraci, Keith Barnett, Andy Khun, Howard Shum, and Norman Lee. Cover from Buffy the Vampire Slayer television show. Milwaukie, OR: Dark Horse Comics, 2001. 96 pages. $11.95 ISBN 1-56971-541-6.


Cover illustration © United Paramount Network.
[Reviewed by James Ambuehl]


The Buffy the Vampire Slayer TV series has flirted with Lovecraftian themes now and again, most notably in the episode "Bad Eggs," with the multi-tentacled and subterranean Bezoar and the whole "The Key" storyline, with its use of the Sphere of Dagon. There was also the novel Night of the Living Re-run by Arthur Byron Cover, and a few tip-of-the-hat references in the Buffy and Angel comic books. But at long last we finally have a Buffy tie-in product that isn't just flirting with the Cthulhu Mythos, but absolutely embracing it head on. But this makes sense, for in a series offshoot wherein the heroes are blood-thirsty vampires, you do need to have something really evil for them to fight, right? Enter the Great Old Ones!


And of the four stories collected in this comic trade paperback, two of them are outright Lovecraftian, whilst another is only vaguely so, with its plot involving a dead and resurrected wizard ala Joseph Curwen. But before we get to the stories proper, let's discuss the overall artwork, shall we? The pencils of Ryan Sook resemble the style and tone of Hellboy artist and creator Mike Mignola, which is to say it is a dark, somewhat sketchy yet atmospheric work. And this tone fits the characters and the world-view of the all-too-cynical Spike and the sweetly-demented Dru perfectly. Eric Powell draws the other two stories, and while his work is not as dark and stylistic as Sook's, it is still quite competent and carries the stories along well enough.


OK, now the stories. There is that dead wizard plot mentioned above, "Paint the Town Red," which depicts our vampiric duo in mid-Europe battling a pack of zombies led by said wizard. It's co-written by Marsters, the actor who plays Spike on the TV series.


"Who Made Who," seems like little more than filler material to me, but the real meat of the collection lies in the two Lovecraftian stories, "All's Fair" and "The Queen of Heart." "The Queen of Hearts" sets the pair against an icthyic Old One, naturally named Ickthala, who has, aside from fish-men servitors, the neatest looking flying jellyfish creatures at his beck and call. "All's Fair" pits them against "a Great Old Wanker," as Spike calls it, summoned through the dimensions by a typical nerdy Lovecraftian scientist, utilizing a Chaos Engine of his own devising.


So there you have it folks -- all in all, a good, dark read, but not without it's very occasional Buffy-ish sense of humor. And if you see it, pick up the Giles oneshot too, from about a year ago (thankfully all of Dark Horse's products remain in print perpetually), which is another good, Lovecraftian read.



You may obtain this book from Dark Horse Comics and Amazon.com.



RETURN TO TOP OF PAGE
---
BUFFY THE VAMPIRE SLAYER: THE WISDOM OF WAR by Christopher Golden. Cover from Buffy the Vampire Slayer television show. New York: Simon Pulse, 2002. 304 pages. $6.99 ISBN 0-74342-760-2.


Cover illustration © United Paramount Network.
[Reviewed by James Ambuehl]


When I tell you that this is a Cthulhu Mythos novel, and you immediately envision a novel wherein Buffy travels to Innsmouth to roust the icthyic members of the EOD, whilst Giles travels to the Miskatonic University in Arkham to peruse their copy of the Necronomicon, all the while Willow and Tara busy themselves conjuring up the ghost of Laban Shrewsbury to aid them in confronting Cthulhu himself . . . well, it's good to see that the first fully-fledged Cthulhoid Buffy novel isn't as trite and traditional as all that!


And it is a Cthulhoid novel, most certainly, its author being no stranger to Lovecraft, as evidenced by his occasional Lovecraftian allusions in his Buffy, Angel, and related comics work, as well as by his story, "The Play's The Thing," in the anthology Miskatonic University (DAW Books, 1996). There are a few direct tips-of-the-hat to the Old Gent's work here, such as the Charles Dexter Institute (where the cells are known as "wards," no doubt) and an offhand reference to "rats in the walls," but thankfully the story's set in Sunnydale rather than Innsmouth (well, a suburb called Docktown, mostly) and the monsters turn out to be quite a bit more than mere Deep Ones. The plot, in a nutshell, basically concerns a sort of Lovecraftian Civil War, with references to "Great Old Ones" and similar terms throughout, and a tentacled monstrosity somewhat akin to Cthulhu does actually put in an appearance. And, of course, the Cthulhu stuff aside, the author captured the characters of the hit TV series perfectly. So if you want to see Giles with his nose, as ever, deep in the books; Xander at his comedic yet good-hearted best; Willow truly enchanting; Tara shy, yet empathic and endearing; Spike rankling everyone like no one else can; and not only Buffy, but Faith as well, kicking major tentacled monster ass, this is probably the book for you. As Xander himself would say: "This rocks!"



You may obtain this book from Amazon.com.



RETURN TO TOP OF PAGE
---
THE GARDENS OF LUCULLUS by Richard L. Tierney and Glenn Rahman. Cover photomontage by John Tynes. Theilman, MN: Sidecar Preservation Society, 2001. 273 pages. $15.95. ISBN 0-9711520-0-4.


Cover illustration © Sidecar Preservation Society.
[Reviewed by Kenneth W. Faig, Jr.]


This collaborative novel brings together Richard L. Tierney's Simon of Gitta and Glenn Rahman's Rufus Hibernicus for high adventure set in the corrupt First-Century Rome of the Emperor Claudius. Claudius's consort Messalina has become involved in a plot to restore the worship of the Magna Mater and the dominion of the banished gods of pre-antiquity. In the introduction, Bob Price extols the vivid portrait of First-Century Rome painted by the authors, and I concur with Bob -- the brutal world of the gladiator's arena is particularly well-painted.


The authors tell a lively and complex tale. The survival of the Vestal Virgin Lucretia, who had been heavily involved in the plot to restore the Cthonioi, leaves open the possibility of more adventures. Simon of Gitta's acceptance of Roman citizenship (and the title Simon Magus) from the hands of Claudius at the end of the novel will also influence the future development of author Tierney's wizard just as Roman citizenship influenced the career of St. Paul, the apostle to the Gentiles.


There is a subplot that concerns the discovery by the wizard Polybius of the secret of eternal youth; and naturally the women of the Magna Mater cult compete to secure the secret. The narrative of Polybius's subject Racilia is well-told. One gets the sense that Tierney and Rahman have actually tried to imagine what the shedding of fifty or sixty years of age would mean to a human being. The insatiable hunger of Racilia during the age-shedding process is an interesting conceit.


There is certainly much sexuality in this novel although none of it seems out of place. The debasement of prostitution is vividly contrasted with its role in some ancient cults. The lesbian gladiatrix Corinna is depicted in a particularly vivid manner; and her abuse of Rufus's erstwhile slaves Fern and Holly is even made the subject of a jurisprudential discussion between the Emperor Claudius and his freeman Pallas. (Claudius's own relationship with the courtesans Calpurnia and Cleopatra forms an interesting contrast with Rufus's and Corinna's enjoyment of Fern and Holly.) In the end, Corinna is turned over to Rufus himself for "reform'' . . . I suspect co-author Rahman will have a challenging story to tell when he narrates the future history of Rufus and Corinna -- which I certainly hope he shall! I hope, too, that Rufus and Simon will have occasion to have more adventures together -- so that their gifted creators may also once again have the opportunity to collaborate. I should like to learn how Simon fares as a Roman citizen (under that brute Nero who is just a boy when this narrative takes place) and how the domestic relations of Rufus and Corinna develop.


I'm indebted to Acolyte [of the Esoteric Order of Dagon amateur press association - epb] Gavin Smith for pointing this new novel out to me. Kudos to the Sidecar Preservation Society (whoever they are!) on a very handsomely done offering. My only two quibbles concern the lack of credit for the attractive cover painting and the large "A" appearing on the spine and at the top of the back cover. On the other hand, my compliments to the firm for omitting an ugly bar code -- ISBNs I can live with, but bar codes I spurn on the covers -- or even the interior pages -- of books. According to the biographical note on the authors, the new publisher will also be issuing a new collection of Richard Tierney's poetry entitled The Blob That Gobbled Abdul. The name chosen by the publisher is certainly curious -- it apparently is chosen to commemorate the virtues of a cocktail, "the sidecar," the recipe for which is even given in the colophon. Hopefully, it is not too potent a concoction, for the publisher's device, depicting two matched cocktail glasses, bears the legend "Make It Six!" The colophon indicates that the book was composed utilizing Adobe fonts and reproduced xerographically, -- yet the book has the look of offset printing to me. Perhaps someone more learned than I can explain the distinction.



You may obtain this book from Flint & Silver Distributors. You can also read Robert M. Price's introduction online here.



RETURN TO TOP OF PAGE
---
SHARDS OF DARKNESS by E.P. Berglund. Cover by D.L. Hutchinson. Poplar Bluff, MO: Mythos Books, 2000. 160 pages. $14.95 ISBN 0-9659433-6-4.


Cover illustration © D.L. Hutchinson.
[Reviewed by James Ambuehl]


Like a real-world counterpart to Henry Armitage or Harold Hadley Copeland, the Lovecraftian research of Edward Paul Berglund has been a true boon to the Cthulhu Mythos collector. Chris Jarocha-Ernst's A Cthulhu Mythos Bibliography and Concordance (Armitage House, 1999) was considerably fleshed out in a mostly uncredited capacity by Mr. Berglund [Berglund was the first individual listed in the acknowledgements - epb], and his in-depth website Reader's Guide to the Cthulhu Mythos is indispensible to net-surfing Lovecraftians everywhere. Then there's his landmark anthology The Disciples of Cthulhu (DAW Books, 1976), which saw a newly-updated edition (Chaosium Books, 1996), and is due for a sequel volume sometime soon [now scheduled for May 2003 - epb].


So it should really come as no surprise that Paul has written in the field of Cthulhu Mythos fiction himself, with splendid results. This collection of 11 stories is indisputable proof. It's clear that Paul is, as am I, a fan of the traditional Cthulhoid tale, for we see here in these stories such familiar and comfortable themes as the man who inherits the not-so-wholesome property of an ancestor ("The Feaster from the Stars"); the ultimately unfortunate academic researcher of arcane artifacts ("Vision of Madness"); the serene, mundane setting which under the tenets of the Mythos becomes something more strange and terrifying ("The Sand Castle"), and the reporter who attempts to broadcast to his unsuspecting readers That Which Should Not Be Revealed ("The Eyes of Darkness"). But we also find startlingly original ideas here as well, such as the story of the fate that befalls an author of the outré ("Wings in the Night"), its hyper-mosaic style serving to hint at horrors far greater than are revealed in the text of the story, making us read "between the lines" if you will, and start shriekingly from what we find there; the tale of the hero-adventurer, whose powerful knowledge of the Mythos makes him a worthy antagonist indeed to the tentacled forces of darkness ("Sword of the Seven Suns"), and, perhaps most compelling of all, a story of the Old West meets the Old Ones, a story which could easily have descended into parody with its starkly extraordinary setting, yet to the contrary, retains a serious, horrific edge ("The Drive").


As I am also the author of the first of the series of "Fan Mythos" books published by Mythos Books, Correlated Contents, into whose pages Man was not meant to delve too deeply (but don't let that stop you from buying it!), I must say I am very impressed as well with the cosmetic changes of the books themselves since my own tome was published. At least twice as thick as my book, Shards of Darkness is on a heavier, off-white paper, and the typeface is more reader-friendly, more like that of an Arkham House book. And while I love the monstrous illustrations by Jeffrey Thomas that adorn my own book, I have to admit that the cover design here by D.L. Hutchison is very striking, and the frontispiece by Peter A. Worthy is very intriguing -- if a little muddied in reproduction; is that a Star-Stone of M'lha I espy there? -- as well. I could have hoped for more illustrations for the stories themselves, however. But the stories of Paul Berglund are so visual in themselves anyway (especially "Vision of Madness," its insanity-inspiring painting described with textbook accuracy), that it might have been a moot point.


But anyway, back to the stories. Written over the course of some 30 years, these stories exhibit a confidence and a professionalism seldom shown in most modern stories of the genre, and rest assured, for almost $15 for a whole smorgasbord of wonderful stories, this is a definite bargain! Buy it and experience anew such old friends as Nyarlathotep, Yog-Sothoth and Ghroth the Harbinger, alongside such new friends as Yomagn'tho (affectionately known as That Which Relentlessly Waits Outside), Mynoghra, female counterpart to Nyarlathotep, and especially the unforgettable desert-dwelling and reptilian Rhygntu!



You may obtain this book from Mythos Books, Amazon.com, Amazon.co.uk.



RETURN TO TOP OF PAGE
---
DAGON directed by Stuart Gordon. Lions Gate Home Entertainment, 2001. $24.99 (DVD), $69.99 (VHS).


Cover illustration © Lions Gate Home Entertainment.
[Reviewed by James Ambuehl]


Truthfully, I have mixed feelings on this fairly faithful adaptation of Lovecraft's classic "The Shadow Over Innsmouth." And yes, the mixed feelings start with the very title of the film. Okay, they had to set it, and film it, in Spain, so "Innsmouth" clearly wouldn't have worked in the title. Still, why not call it The Shadow Over En Boca, since the Spanish town in the film (which means "the mouth," incidentally) stands in very obviously as a European substitute for the ill-rumored American town -- much the way Stephen Jones' European-only contributors to his anthology Shadows Over Innsmouth had to create their own European analog of the town. This solution usually works fairly well, since the Mythos itself extrudes its insidious tentacles worldwide, but we are dealing here with a work more or less adapted from HPL. Honestly, I'd have no problem with the title of the film as is, if Dagon were actually given top billing. And wouldn't that be a nice change? But no, there are enough "Iä! Cthulhu's" in this film to give even the viewer who's never heard of Lovecraft a pretty good idea just who's behind it all: "What, Cthulhu . . . again?!?"


All right, title niggles aside, I sat down to view the film. Right away I decided I didn't care diddly about the whiny and wishy-washy hero. The Miskatonic sweatshirt was a nice touch, but what this part really called out for was Jeffrey Combs in a major role in a Stuart Gordon film once again as he carried off so well in Reanimator, or even Bruce Campbell, with a character like Ash from the Evil Dead films. Someone we could actually identify with, and care about. No problem, I thought, I'll just have to root for the monsters!


Uh, okay, they were a monstrous breed when they did finally appear, and I could fairly believe they were the degenerate spawn of inbreeding with alien monsters for decades of blasphemous rites. But as for as wet as Innsmouth . . . er, I mean En Boca, always seemed to be, rife with water-dwelling monsters and non-stop raining and all, it sure was DIRTY. And BLOODY.


And it was about here that I started having problems with the film again. The understandable way our hero began to act when he began to examine the filth ("I don't think so!") and the weirdness (shuffling, tentacled, mutilated Deep Ones, for Chrissakes!) I started warming to him at last, and found myself wondering if this all weren't meant to be an actual parody on the dim-witted and stubborn-as-a-mule, skeptic Lovecraftian protagonist. But no, our hero soon began reverting to the clumsy wimp again, with a tiny pocketknife as a weapon rather than finding a good sturdy piece of wood, which was likely quite plentiful in the environs of a ruined and rotting En Boca.


Of course, it's hard not to have problems with the story as faithfully filmed as this, and its likewise hard to believe there is a potential viewer who would have no idea what was coming at the climax of the story; so hiding the original story's title made sense from this angle. The story is just too well known! The title Dagon, however, has a lot of sadly untapped potential, and I was hoping the story might work in an anti-climax with our not-so-hearty hero escaping the village in a boat, and then stumbling upon the shores of the island central to "Dagon" the story's plot (and Dagon himself, in shadowy glimpses, of course), and thereafter he'd escape back to civilization, in an attempt to escape the evil forces from outside (Dagon's flabby body flinging against his door) and from within (his unsuspecting Deep One heritage asserting itself), but, of course, we don't really get much more here than the plot of "The Shadow Over Innsmouth" -- which again begs the question: why the name-change?


All right, so my expectations ultimately disappointed, I began to at least try to enjoy the movie once more, upon a later second viewing. And believe it or not, I actually started to do just that!


Really, this is probably the only way an Innsmouth story could be filmed, claustrophobic and revolting in its detail, and the stuff that had previously bothered me like the excessive gore, began to make sense as I envisioned what a fish's reaction might be to one of our fish markets. We have no qualms about gutting them, so why shouldn't they fillet us in kind? There's no sense in attributing our human morals upon the Deep Ones. Plus, they needed human skins to wear in their ceremonies in Ed Gein-like fashion. And since the extent of my speaking Spanish is ordering a Gordita combo at Taco Bell, I found my lack of understanding the guttural En Bocans' mutterings very unsettling. I couldn't stomach nor fathom the workings of these fish-creatures, and like their likewise degenerate cousins in Deliverance or Texas Chainsaw Massacre, it was really creeping me out bigtime. They were no longer merely the Batman-like evil henchman of the forces of the Mythos in countless Call of Cthulhu games. Face it: these Deep Ones were fucking scary!


So, to wrap up, yes, I liked the film -- a lot -- and I have to ultimately admit that it just wouldn't have worked with Arnold Schwarzenegger or maybe Vin Diesel riding into fishtown on a Harley, armed to the teeth, and blowing the shit out of the place. That's another movie, and while it's still one I'd like to see, well, it will be a long time until I can totally get the disturbing and thought-provoking Dagon out of my mind.



You may obtain this movie from Amazon.com.



RETURN TO TOP OF PAGE
---
TALES OF THE LOVECRAFT COLLECTORS by Kenneth W. Faig, Jr. Cover by Jason C. Eckhardt. West Warwick, RI: Necronomicon Press, 1995. 46 pages. $5.95 ISBN 0-940884-80-1.


Cover illustration © Kenneth W. Faig, Jr. & Necronomicon Press.
[Reviewed by Peter A. Worthy]


Originally there were five tales published in the Esoteric Order of Dagon amateur press association. What you might not know is that Kenneth W. Faig, Jr. previously released a limited edition of 25 copies, so this edition from stalwarts Necronomicon Press is actually a revised version.


I have been meaning to pick this item up since I first saw it in the catalogue of the press, but something else always came up and I would put if off for another day. Until this year and I am glad that I finally got around to purchasing it. I think the procrastination was a good thing in that I am more ready to read this book; it is a mature and well written set of stories that focus around the life and experiences of David Parkes Boynton, a contemporary of H.P. Lovecraft.


Make no mistake, these are tales about H.P. Lovecraft, not the Cthulhu Mythos.


The cover art from Jason C. Eckhardt shows that he has thoroughly read the contents and produced a piece of work that truly does Ken's fiction justice. It offers hints of what can be found within and it is a lure that is hard to resist.


From the introduction to each of the tales, I found myself deeply immersed in the calm, measured pace of the language, reading was fluid and sedate. The level of detail that Ken has gone into is extraordinary and from time to time you catch yourself having to remind yourself that this IS fiction.


I can't pick a favorite as all four tales are exceptional. It just seems a shame that the final tale, "A Pair of Old Shears," wasn't included as it was the favorite of the author.


I definitely think Lovecraftian fans should pick it up.



You may obtain this book from Necronomicon Press.



RETURN TO TOP OF PAGE
---
DEAD BUT DREAMING edited by Kevin Ross and Keith Herber. Kansas City, MO/Chicago: DarkTales Publications, 2002. xiv, 194 pages. $17.99 ISBN 1-930997-20-5.


Cover illustration © DarkTales Publications.
[Reviewed by Peter A. Worthy]

Before beginning this review, I must point out that the Dark Tales publishing arm has ceased operations from 07-04-2002. Their online horror community will remain fully functional. There is currently a liquidation sale at their website with up to 70% off of some of their titles; I do warn you upfront, though, that there isn't really a whole load of stock left and none relevant to the Lovecraftian Collector.

This anthology represents itself as a compilation of fifteen tales of Lovecraft-inspired cosmic horror and as a whole is a tidily-formed volume, although I should point out that the cover art is, alas, utterly uninspired. You may feel my following comment unwarranted; however, I do feel that a skillful piece of artwork for the cover is an integral component of any volume, be it an anthology or novel. As I removed the book from the packaging and caught a glance at the cover art, I just found myself not having that eager, fascinated incitement.


As the old saying goes, you cannot simply judge a book from its cover, and I waived my earlier stirrings of indifference. I have stated elsewhere that I initially felt very much the same about William Browning Spencer's Résumé With Monsters, which I was after reading happy to report was actually an engrossing and thoroughly enjoyable novel. So, I turned over that disappointing exterior image.


The layout of the book on initial inspection is very lackluster; suggesting the entirety of the volume was rushed. The text is a thoroughly unsatisfactory size, indicating immediately that reading the book was going to become a chore. It also left the two forewords looking lost and misplaced.


Onto the actual material . . .


Out of the total of fifteen, there are four superior tales here; one good tale and the rest are simply disappointing. Most of them are your standard horror fare some with Lovecraft items dropped in seemingly to "qualify" for their appearance here and others haven't. I am always dubious of anthologies stating they are "Lovecraft-inspired" because all too frequently they are anything but.


"Epiphany: A Flying Tiger's Tale" by Stephen Mark Rainey, "Salt Air" by Mike Minnis, "Bayer's Tale" by Adam Niswander, and "The Other Names" by Ramsey Campbell are the only tales here that are Lovecraft inspired in the least. The first three being the only ones which touch on cosmicism. "The Aklo" by Loren McLeod is a good tale utilizing the diary format and air of a museum-published paper without falling into the trap of overdoing it in an effort to be as real as possible. The change of Aklo from a language to a people is never explained and the ending comes across as too contrived, hence it isn't among the four above, but still definitely worth a mention.


The other tales here seem to be standard horror fare that has been included to fill out the collection. Some drop Lovecraftian names in an effort to "qualify" themselves, others don't even do that. They are well written and competently so, but just why they are in this anthology is a mystery to me.


Dead But Dreaming in general is a disappointment. It could have been so much more with a little effort on the part of the editor and layout and design people. $17.99 seems a lot of money to spend on five enjoyable tales and ten that despite being well crafted are like putting square pegs in a round hole.



You may obtain this book from Amazon.com and Shocklines.com.



RETURN TO TOP OF PAGE
---
THE H.P. LOVECRAFT TAROT, by Daryl Hutchinson (illustrator) and Eric C. Friedman. Poplar Bluff, MO: Mythos Books LLC, 2002. 84 pp, 77 cards. $40.00. ISBN 0-9659433-8-0.


Box cover illustration © Daryl Hutchinson.
[Reviewed by Edward P. Berglund]


Note: The majority of the following review originally appeared in Nightscapes # 7 (1997), but it is still appropriate for this second edition.


If you are interested in Mythos art, to the extent that you purchase the occasional art portfolio or a professional or small press magazine because it features some Mythos artwork, you should be overjoyed with the publication of The H.P. Lovecraft Tarot. It consists of 78 oversized tarot cards depicting Lovecraftian subjects, a small (84 pages) booklet by Eric C. Friedman, and a box to keep the cards in, which has a reproduction of the cards backing illustration, a portrait of H.P. Lovecraft himself.

As Daryl L. Hutchinson, illustrator, remembered the origin of this tarot deck:
The Lovecraft Tarot began as a suggestion from my friend David Wynn of Mythos Books. The project took over a year to complete, even with using pre-existing artwork when possible. This may be a good time to let everyone know that the cards spent a month in limbo, being rejected by three printers, all with righteous declarations about not printing that sort of thing; perhaps they feared the wrath of the Old Ones. I finally sent the negatives to David who found a printer who could care less about the number of pentagrams on the borders of the cards. The printer did an excellent job, except for the fact that some of the borders turned out a bit on the dark side, but by this time I was relieved to even find someone to print the accursed thing.

We were also relieved that they found someone to print "the accursed thing," having admired Daryl's samples on his own website (first edition images).

In Eric's booklet, he gives general introduction for the H.P. Lovecraft, explaining therein his attributing certain Mythos imagery to the cards in a tradition Tarot deck. (See card list for the differences between the first and second editions.) There is a very brief biography of H.P. Lovecraft. He then provides a listing of all of the cards and what their possible meanings could be. The listing is broken down into "The Major Arcana" and the four suits of the Minor Arcana: "The Suit of Man," "The Suit of Artifacts," "The Suit of Tomes," and "The Suit of Sites." (Eric doesn't mention it, but in the previous edition, David Wind equated the Suits of Man, Artifacts, Tomes, and Sites with the Suits of Cups, Wands, Swords, and Pentacles in the conventional Tarot deck.) He then describes how to lay out the cards, what each card position means, and then provides a sample reading. He then provides a reference to show which Lovecraft story provided the quotation accompanying the meaning of the Major Arcana cards. There is mention on the final page that one can purchase the original artwork or prints.

Daryl is a self-taught artist with no professional training, relying on books for examples. The artists he most admires include Harry Clarke, Mahlon Blaine and Sidney Simé. He reads "quite a bit of dark fantasy and horror literature, especially the older works," favorite writers include Clark Ashton Smith, H.P. Lovecraft, Lord Dunsany, and the French decadent writers of the 1890's. As a result he has also been influenced by the fantasy artists, favorites of which are Virgil Finlay, Phillippe Druillet, Mobius, Lee Brown Coye, and H.R. Geiger.

In contacting Daryl to find out what his artistic influences were, I mentioned that I thought I saw possible influences from Tim Kirk ("Arkham"), Phillippe Druillet ("Wizard Noah Whateley"), Aztec imagery ("Libre d' Eibon" and "Yig, the Serpent God"), the Brothers Hildebrandt ("The Dhol Chants"), Roy G. Krenkel ("Kadath"), and H.R. Geiger ("Spawn of Cthulhu") (all first edition cards). Well, two out of six isn't too bad, but the point being that Daryl has given The H.P. Lovecraft Tarot illustrations a great variety of styles. And there is an amazing amount of detail to the illustrations, much more than would normally be expected when you contemplate 78 illustrations by a single artist. His styles range from a semi-cartoonish "Ghoul" (no denigration intended) to an almost photographic quality in "Yig, the Serpent-God." But his "monsters" and structures are very believable, as if Daryl were a modern-day Pickman. And speaking of Pickman, "Pickman's Model" depicts Pickman's illustration, complete with signature.

I would doubt if I would be able to shuffle this deck of cards very successfully, due to their size. But, then again, I wouldn't want to, for two reasons. First, I wouldn't want to expose the deck to wear and tear -- they're too beautiful. They were meant to be looked at and admired and studied and ... Secondly, as Peter Guenther has mentioned in his own review, would you really want to cast your fortune using this particularly tarot deck?!

After working over a year on a single project, Daryl should be highly commended (plus the additional time of redoing the borders, substituting new artwork, and adding completely new artwork for this second edition). Mythos fans haven't seen this much quality artwork in a long time. The original edition's cards were a darkish blue and were hard to read. For this edition, Daryl has redone the cards in a light brown, with the title of the cards, the major arcana and suit symbols, and the card numbers completely unencumbered by any color. The only drawback to this edition, is that Mythos Books didn't provide a sturdy box as they did with the first edition, the cards are on a lighter stock, and the corners are square (where they were rounded in the first edition). But even taking these into consideration, The Lovecraft Tarot is worth the price that it sells for and I highly recommend that you obtain a copy if you are interested in Mythos artwork.

Click on the thumbnails below to see samples of these tarot cards (if you haven't already perused them in the artwork section).













Arkham


Azathoth


Cthulhu


Cthulhu
Awakens


H.P.
Lovecraft


Mi-Go
Brain
Cylinder

Scanned images courtesy Tarot Garden. Used by permission.
You may obtain this item from Mythos Books at telephone (573) 785-7710.




RETURN TO TOP OF PAGE




---

© 2003 Edward P. Berglund All reviews: © 2003 by their respective writers. All rights reserved.
Review of The Whisperer # 3 © 2000 by Louise Hayes. All rights reserved.
Review of Shoggoth Cacciatore © 2001 by James Ambuehl. All rights reserved. Previously appeared in the newsgroup alt.horror.cthulhu.
Review of Buffy the Vampire Slayer: Spike and Dru © 2001 by James Ambuehl. All rights reserved. Previously appeared in the newsgroup alt.horror.cthulhu.
Graphics © 1998-2003 Erebus Graphic Design. All rights reserved. Email to: James V. Kracht.
Created: May 3, 2003; Updated: August 9, 2004