---
A BIRTHDAY TRIBUTE TO THE GUY FROM PROVIDENCE

(In celebration of his 111th since August 18, 1890)

by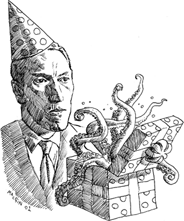 In wishing Lovecraft all the best --
With hopes he's doing well --
We raise our foaming tankards high
To chug and sit a spell.

More than a hundred years have passed
Since Howie first trod Earth,
A baby wrapped in swaddling clothes
Allotted him at birth.

We and the Old Ones sing our praise --
Alas, off key, a bit --
For all the gruesome horror tales
And Mythos that he writ.

In homage now we light the wicks
That deck his ice cream cake,
So we can puff the candles out
And eldritch wishes make.

No author yet excels the prose
Of this Rhode Island gent,
And so we thank him for the chills
His creepy writing sent!

© 2003 Edward P. Berglund "A Birthday Tribute to the Guy from Providence": © 2001 Franklyn Searight. All rights reserved.
Illustration © 2001 Toren Atkinson. All rights reserved. Reprinted from H.P. Lovecraft's Birthday Party!.
Graphics © 1998-2003 Erebus Graphic Design. All rights reserved. Email to: James V. Kracht.

Created: May 3, 2003; Updated: August 9, 2004