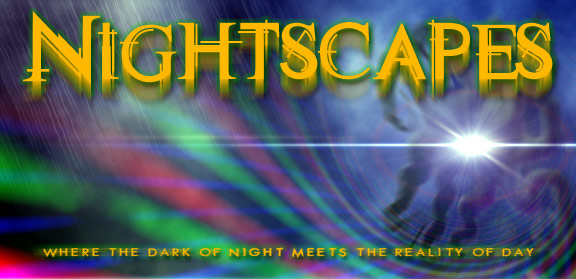 WELCOME TO NIGHTSCAPES # 13
THE SAND DWELLERS, by Adam Niswander
CTHULHU LIVE: SECOND EDITION, by Robert H. McLaughlin
LORE #'s 3 - 9
THE WHISPERER # 2
DREAMS OF LOVECRAFTIAN HORROR, by W.H. Pugmire
ANCIENT EXHUMATIONS, by Stanley C. Sargent
THE HAUNTER OF THE DARK, by H.P. Lovecraft and John Coulthart



---
THE SAND DWELLERS, by Adam Niswander. Cover and interior illustrations by H.E. Fassl. Minneapolis: Fedogan & Bremer, 1998. 261 pages. $27.00. ISBN 1-878252-29-1.


Cover illustration © H.E. Fassl.
[Reviewed by Edward P. Berglund]


Adam Niswander has said that The Sand Dwellers is "about a secret military base located under legendary Superstition Mountain, a mutant, and monsters from another dimension."


That's a bare-bones description of this novel. But the plotline is not straight forward. There are multiple plotlines, entangled with each other (thankfully). The story starts, in a short prologue, in 1932, with Willem Barber looking for the Lost Dutchman Mine in the Superstition Mountains. At first one wonders what is going on in this novel as Niswander introduces each of his major players - Professor Ahab Blayne; LtCol Aloysious Graham Porter, commander of the Strategic Defensive Initiative Control Center; Clem, who lives in the desert and has been looking for Willem Barber; The Idiot; and Aiden Mardian, private detective, and Iris Carrolton, his client. As a result the first five chapters are kind of slow going. But then it starts picking up speed and rushes to a satisfying conclusion.


The Sand Dwellers is not your normal Cthulhu Mythos story. Niswander doesn't throw the Mythos trappings into his novel in a willy-nilly fashion. In fact, what is there is his own take on the Mythos. Other writers in the Mythos should take note of how it is done and get away from the Lovecraftian pastiche.


This novel is recommended. You may even be tempted to track down his first three novels, which also have his unique view of the Mythos.



You may obtain this book from Amazon.com.



RETURN TO TOP OF PAGE
---
CTHULHU LIVE: SECOND EDITION, by Robert H. McLaughlin. Roseville, MN: Fantasy Flight Games, 1999. 205 pages. $19.95. ISBN 1-887911-71-5.


Cover illustration © Fantasy Flight Games.
[Reviewed by Edward P. Berglund]


Live action roleplaying takes gamers from sitting around a table roleplaying a game that is controlled by a Keeper, who is responsible for making sure the players know where they are in the roleplaying world by describing everything that they see. In live action roleplaying, McLaughlin describes the Keeper as a "puppeteer," along with the needed support staff. The players can be in costume, the game utilizes real-life locations, and the Keeper is sort of in the background, only involving himself into the game when necessary. Of course, he has to give a narrative setup for the game to begin.


Robert McLaughlin brought live action roleplaying to the Call of Cthulhu gamers with the first edition of this book, published by Chaosium in 1997. This second edition, from Fantasy Flight Games, is even more impressive. From a physical standpoint, it is nice to see this book in a trade paperback size, versus the oblong size Chaosium gave us.


Cthulhu Live: Second Edition gives the Keeper and/or player everything in one place that is needed to get into live action roleplaying of Cthulhu and buddies. The chapters cover creating the character, playing the game, test resolutions (no dice required here!), magic, creatures, the game support staff, setting the stage, and reference sheets. Also included are two sample adventures, previously played in private and at conventions, but never published. "The Auction" concerns a triptych called The Black Madonna. It is somewhat hard to describe "The Magna of Illusion" without giving the storyline away. Suffice it to say, it reads like it would be a good adventure.


If you haven't done any live action roleplaying before, but were curious, then this is the book for you. If you're still not sure, why not visit Robert McLaughlin's website Cthulhu Live?



You may obtain this book from Fantasy Flight Games and Amazon.co.uk.



RETURN TO TOP OF PAGE
---












Cover illustrations © Lore
LORE #'s 3 - 9, edited by Rod Heather. Middletown NJ (#'s 3-4), Matawan, NJ (#'s 5-9): Rod Heather, 1995-1998. 60 pp, 64 pp, 56 pp, 60 pp, 52 pp, 52 pp, 60 pp. $4.00 each in US, $5.25 elsewhere (in US funds).

[Reviewed by Edward P. Berglund]


Lore is a digest-sized magazine that includes exceptional fiction in its contents. This is not a Cthulhu Mythos magazine, but does include some Mythos stories


First off, there is the round robin "The Challenge from Below" by Robert M. Price (# 3), Peter Cannon (# 4), Donald R. Burleson (# 5), and Brian McNaughton (# 6). Overall, a very interesting story based on "The Mound" by Zealia B. Bishop, which was one of H.P. Lovecraft's revisions.


# 3 has "Totem Pole" by Wilum H. Pugmire, a Sesqua Valley tale. # 4 has "The Spectre of Romance" by Wilum Hopfrog Pugmire, non-Mythos, but still a good Pugmire tale. # 5 has "Nautical-Looking Negroes" by Peter H. Cannon and Robert M. Price, which attempts to tie up some loose ends from "The Call of Cthulhu." # 7 has "Return to Y'ha-Nthlei" by John Glasby. And # 9 has "The Woven Offspring" by W.H. Pugmire, another Sesqua Valley tale.


Interspersed among these Mythos offerings, there are stories by Donald R. Burleson, Jeffrey Thomas, Brian McNaughton, Brian Lumley, and others. All of these are well-written and Rod Heather, ye editor, should be proud that he only offers the best in horror fiction. There is also a translation of a story by Stefan Grabinski (# 9), originally published in Polish.


All but one issue offers two poems, notably those by Mollie L. Burleson and Ann K. Schwader.


And then there is the artwork. The covers (above, left to right, top to bottom) are by Richard Corben (as "Gore"), Roddy Williams, Gore, Jamie Oberschlake, Wayne Miller, Gore, and Thomas Brown. Interiors are by Earl Geier, Allen Koszowski, Chris Pelletiere, Augie Wiedermann, Core, and Roddy Williams


All in all, Lore is a well-edited magazine and is highly recommended. (Rod Heather has been selling these for $4.00 when most small press magazines are going for $5.00 and up.)



You may obtain these fanzines from Rod Heather, P.O. Box 381, Matawan, NJ 07747-0381 (checks payable to Rod Heather).



RETURN TO TOP OF PAGE
---
THE WHISPERER # 2. Severn Valley Press, Spring 2000. 36 pages. £3.50 in UK or £4.50 if outside UK.


Cover illustration © Mark Smith
[Reviewed by Edward P. Berglund]


After the comments on the first issue of this fanzine (in NS # 12), I was beginning to wonder if there would be a second issue. Well, here it is!


This issue contains "Acquaintances & Abodes: Ernst Pretzche" by Rik Kershaw-Moore, an NPC that really existed (but I doubt he was involved in the Cthulhu Mythos); "A Once and Future King" by Garrie Hall, part two of his scenario that follows on Pagan Publishing's The Golden Dawn; "IT's in the Cards: So you want to be a tournament winner?" by Danny Bourne, part two of the Mythos CCG, this time looking at deck types (construction of decks to be covered in # 3); "Call of Cthulhu Skills Training" by Adam Crossingham, new rules covering crash courses, night school, and university training; "Bad Night at Munz Ridge" by Rik Kershaw-Moore, a Delta Green scenario; "Who can you trust ...?: A Guide to the UK Mental Health Act and UK Mental Health Services for Delta Green" by Liz Mason; "Allghoi Khorkhoi: The Mongolian Death Worm" by Rik Kershaw-Moore; "Fidelis and Urnam: A short profile of the Order of the Pure Heart" by Adam Crossingham; and "A Funny Thing Happened on the way to ...: An article about beginnings" by Rik Kershaw-Moore.


It would seem that Rik Kershaw-Moore has taken over The Whisperer, but that is not really a bad thing. Kershaw-Moore's contributions reveal that he has invested some thought into his essays and the scenario; they weren't just dashed off to get his name in the magazine. And the other items listed above are of the same stature.


With front and back covers by Mark Smith, and interior illustrations by Andy Simmons, James D. Collins, and Mark, Smith, the overall appearance of The Whisperer has improved over the first issue. If it continues, along with the meaty contents, TW will be one of those publications that you will look forward to getting as each issue comes out. Recommended.



You may obtain this fanzine from Severn Valley Press, 18 Loughton Road, Bradwell Village, Milton Keynes, MK13 9AA, England. The editor can be contacted by email at The Whisperer.




RETURN TO TOP OF PAGE




---
DREAMS OF LOVECRAFTIAN HORROR, by W.H. Pugmire. Cover and interior artwork by Stanley C. Sargent. Poplar Bluff, MO: Mythos Books, 1999. 91 pages. $9.95. ISBN 0-9659433-4-8.


Cover illustration © Stanley C. Sargent.
[Reviewed by Peter A. Worthy]


Dreams of Lovecraftian Horror may look and feel like a slim volume, but the well laid out and designed cover belies the nature of the contents. Fourteen moody and atmospheric tales from the hand of W.H. Pugmire, who has made his career from creating dark, ominous vignettes with his mastery of the weird fiction form. Those familiar with the work of Wilum will not be disappointed by this collection from Mythos Books. Publisher David Wynn has done an excellent job with the production of the collection that contributes to making it a pleasure to read.


Wilum dedicates the book itself to fellow author, Stanley C. Sargent, which is apt, as aside from co-editing the collection, he has provided the beautiful artwork that compliments these ethereal tales so perfectly.


Each tale has been skillfully crafted, with many of the older pieces having been revised for their inclusion within. His poetic style describes distinctive and vivid locales whether it is Lovecraft's own gambrel-roofed, witch-haunted Arkham or Pugmire's own genius loci of otherworldliness, the brooding Sesqua Valley. Wilum has always had an individual and unique voice in his writing: precise, yet whimsical in places, and emotionally taut with an all-pervading spirit of melancholy.


The protagonists in these stories are like mirrors of the 'outside' aura that infuses them, giving rise to their tone of gloom and ultimately futile despair. Any use of the Mythos is handled with a subtlety that has become synonymous with Wilum's work, not allowing his craft to become too bogged down with too much ephemera -- expertly letting the ambiance carry your imagination and with elegant understatement.


Dreams is simply a must for any dark literature devotee.


[Reviewed by Edward P. Berglund]


Each new collection by W.H. Pugmire (this makes three now!) is eagerly awaited and snatched up as soon as it is available. His poignant vignette to short-short length tales, from Lovecraft's Arkham to his own Sesqua Valley and all places inbetween, are reminiscent of Ray Bradbury. They enrapture the reader with the delicateness of their creation, the subtle nuances of the interplay between characters, and the overriding melancholy in the background. These are tales of things lost: love, lovers, friends, goals, heritage.


Although many of these fourteen tales have previously been published, they are not the same. Pugmire does revision to his stories when they will see publication again. Sometimes it is only a minor revision, sometimes more. So even though you may have read the stories before -- and if you are a Pugmire fan -- you look forward to rereading them again, to see if he has made them better than you remember.


In those tales in which Pugmire uses the Cthulhu Mythos, the Mythos is very underplayed. You may not even notice that it is there while reading, but it is there nevertheless. Again a writer that other Mythos writers should read to see how it is done.


And we mustn't forget Stanley C. Sargent's cover and interior illustrations. Although Sargent's artwork is heavily influenced by Central American Indian artwork, in a weird fashion it complements Pugmire's stories without jarring the reading from the frame of mind induced by the stories. For this collection, at least, it is a happy amalgam.


Any W.H. Pugmire collection is highly recommended. Get out there and buy it!



You may obtain this book from Mythos Books at telephone (573) 785-7710 and Amazon.com.



RETURN TO TOP OF PAGE
---
ANCIENT EXHUMATIONS, by Stanley C. Sargent. Cover illustration by D.L. Hutchinson. Interior illustrations by Stanley C. Sargent, Peter Worthy, Jeffrey Thomas, Daniel Alan Ross, and D.L. Hutchinson. Poplar Bluff, MO: Mythos Books, 1999. 123 pages. $12.95 ISBN 0-9659433-5-6.


Cover illustration © D.L. Hutchinson.
[Reviewed by Edward P. Berglund]


And, now in hand, we have the first collection of Stanley C. Sargent. There are six tales of the Mythos herein, and one science fiction tale. All of them very well written.


As Robert Price says in the introduction, "he is a scrupulously careful and indefatigable researcher, again like HPL." Sargent doesn't just write Mythos tales. He find some bit of ancient history or myth, researches it until he knows it forwards and backwards, and then he starts extrapolating that information into the Mythos universe. When a writer who researches his material and carefully extrapolates from it, the reader will have a hard time determining where fact leaves off and fiction begins. This is how one writes a story that causes the reader to suspend his disbelief in certain imaginative subjects.


The tales included herein are "The Tale of Toad Loop," "Dark Demonize," "The Hopwood Tenant," "When the Stars Are Ripe," "The Paladin of Worms," "Self-Correcting Mechanism," and "The Rattle of Her Smile." All of these stories have appeared elsewhere, with the exception of "Dark Demonize," "The Palladin of Worms," and "The Rattle of Her Smile." The latter tale was originally to be included in The Disciples of Cthulhu II from Chaosium, but there's no need to go into that here; it will be appearing in The Yig Cycle from Chaosium.


Some of Sargent's characters are just that -- characters. As soon as you start reading "The Hopwood Tenant," you know that Pete and Delbert are going to come to know end. It's the finding out of what that end is that makes it a pleasure to read the story. But no matter who the narrator is or what the overall tone of the story is, there are snippets of humor. Not to say that these stories are to be read as humorous -- they're not. Read these late at night, with only one light on, and you are sure to have a dilly of a nightmare (depends on what you ate before going to bed!).


This collection is highly recommended. And we can only hope that there are more to come.



You may obtain this book from Mythos Books at telephone (573) 785-7710 and Amazon.com.



RETURN TO TOP OF PAGE
---
THE HAUNTER OF THE DARK AND OTHER GROTESQUE VISIONS by John Coulthart and H.P. Lovecraft. Oneiros Books, 1999. $19.95 ISBN 1-902197-02-X


Cover painting © John Coulthart.
[Reviewed by Peter A. Worthy]


Three adaptations of H. P. Lovecraft's work appear in this collection, although the last has so far sadly remained uncompleted, as it became a struggle for Coulthart to complete. From here he contributed to David Britton's notorious Lord Horror comics, and previously unseen drawings and paintings are presented here, plus selections from Hard Core Horror # 5 and Reverbstorm. It must be noted that the artwork for Lord Horror is dramatically different to that of his HPL adaptations. Alongside the artwork and foreword by Coulthart, there is an introduction and set of evocations, The Great Old Ones, by Alan Moore.


The design of the book, also by Coulthart, is well done and the cover art is a real eye catching piece of work. All through the collection are arranged various paintings and illustrations making up what is simply a portfolio of Lovecraftian inspired art. Ah, but what a portfolio it is . . .


First up is the title adaptation, "The Haunter of the Dark." His interpretation of this tale is immaculate, although it does not quite carry the mood of the original. But this is no failing. Indeed, it sets up an atmosphere all its own -- presenting Coulthart as a voice of his own and not just a later articulator of Lovecraft's work. The effort that has been put into this is obvious, as it is with all his material. Meticulous pen and ink detailing that would probably drive anyone less conscientious to abandon such a project before reaching the drawing board. I would say it is that last three pages here that I deem the best -- the overcoming of Blake by the horror from the steeple is plainly speaking, fantastic.


Next is Coulthart's better-known visual elucidation of "The Call of Cthulhu" that readers may remember from the Creation Books publication, The Starry Wisdom. While that collection was uneven at best, there is no such mismatched feel here. Despite having read this piece before, Coulthart's presentation of "Cthulhu" is still my firm favorite of his handiwork. Distinct in the portrayal of the events in the story, it effectively carries the same atmosphere of growing suspense and slow revelation. His images of characters in the tale such as George Gammell Angell, Inspector Legrasse and, of course, Old Castro have become the faces I conjure up whenever I re-read "The Call of Cthulhu." And what of the big green High Priest of the Great Old Ones, the dead but dreaming Cthulhu itself? Well, all I will say is that Coulthart's rendering is one of the best I have ever seen.


Following these, we are treated to some glimpses of "The Dunwich Horror," a project that was started, but Coulthart ultimately aborted. It is a shame that this third in his planned Lovecraftian trilogy was never completed -- his wilderness scenes and depiction of Wilbur Whateley are impressive.


"The Great Old Ones" is a kabbalah of some of the Lovecraft pantheon with associated evocations. I have always admired the work of Alan Moore, but I find these pieces more interesting as the source of inspiration for the accompanying pictures.


Lastly, we are presented with the selections from Lord Horror. I will leave the reader to judge these drawings on their own, but personally I would have preferred to see included here instead the illustrations that were done for Arthur Machen's The White People.



You may obtain this book from Amazon.co.uk.



RETURN TO TOP OF PAGE
---

© 2000 Edward P. Berglund All reviews: © 2000 by their respective writers. All rights reserved.
Graphics © 2000 Erebus Graphic Design. All rights reserved. Email to: James V. Kracht.

Created: May 16, 2000; Current Update: August 9, 2004