---
THE LOVECRAFT TAROT, by David Wynn and D.L. Hutchinson, Illustrator. Poplar Bluff, MO: Mythos Books, 1997. 10 pp, 77 cards. $29.95 (plus $4.00 USA postage and handling) from Mythos Books, 218 Hickory Meadow Lane, Poplar Bluff, MO 63901-2160. ISBN 0-9659433-0-5.

[Reviewed by Edward P. Berglund]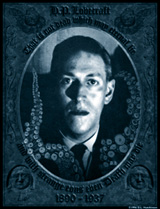 Tarot Back

If you are interested in Mythos art, to the extent that you purchase the occasional art portfolio or a professional or small press magazine because it features some Mythos artwork, you should be overjoyed with the publication of The Lovecraft Tarot. It consists of 78 oversized tarot cards depicting Lovecraftian subjects, a small (10 pages) booklet by David Wynn on the tarot, and a sturdy box to keep the cards in, which has a reproduction of the cards backing illustration, a portrait of H.P. Lovecraft himself.

As Daryl L. Hutchinson, illustrator, remembered the origin of this tarot deck:
The Lovecraft Tarot began as a suggestion from my friend David Wynn of Mythos Books. The project took over a year to complete, even with using pre-existing artwork when possible. This may be a good time to let everyone know that the cards spent a month in limbo, being rejected by three printers, all with righteous declarations about not printing that sort of thing; perhaps they feared the wrath of the Old Ones. I finally sent the negatives to David who found a printer who could care less about the number of pentagrams on the borders of the cards. The printer did an excellent job, except for the fact that some of the borders turned out a bit on the dark side, but by this time I was relieved to even find someone to print the accursed thing.

We were also relieved that they found someone to print "the accursed thing," having admired Daryl's samples on his own website.

In David's wee booklet, he gives a very general background on the use of the tarot for casting fortunes, to include the laying out of the cards. He then provides a listing of all of the cards and what their possible meanings could be. The listing is broken down into "The Major Arcana," "The Suit of Artifacts" (corresponding to "The Suit of Wands" in a normal tarot deck), "The Suit of Sites" (Pentacles), "The Suit of Tomes" (Swords), and "The Suit of Man" (Cups). There is mention on the final page that one can purchase the original artwork or prints.

Daryl is a self-taught artist with no professional training, relying on books for examples. The artists he most admires include Harry Clarke, Mahlon Blaine and Sidney Simé. He reads "quite a bit of dark fantasy and horror literature, especially the older works," favorite writers include Clark Ashton Smith, H.P. Lovecraft, Lord Dunsany, and the French decadent writers of the 1890's. As a result he has been influenced by the fantasy artists, favorites of which are Virgil Finlay, Phillippe Druillet, Mobius, Lee Brown Coye, and H.R. Geiger.

In contacting Daryl to find out what his artistic influences were, I mentioned that I thought I saw possible influences from Tim Kirk ("Arkham"), Phillippe Druillet ("Wizard Noah Whateley"), Aztec imagery ("Libre d' Eibon" and "Yig, the Serpent God"), the Brothers Hildebrandt ("The Dhol Chants"), Roy G. Krenkel ("Kadath"), and H.R. Geiger ("Spawn of Cthulhu"). Well, two out of six isn't too bad, but the point being that Daryl has given The Lovecraft Tarot illustrations a great variety of styles. And there is an amazing amount of detail to the illustrations, much more than would normally be expected when you contemplate 78 illustrations by a single artist. His styles range from a semi-cartoonish "Ghoul" (no denigration intended) to an almost photographic quality "Yig, the Serpent-God." But his "monsters" and structures are very believable, as if Daryl were a modern-day Pickman. And speaking of Pickman, "Pickman's Model" depicts Pickman's illustration, complete with signature.

I would doubt if I would be able to shuffle this deck of cards very successfully, due to their size. But, then again, I wouldn't want to, for two reasons. First, I wouldn't want to expose the deck to wear and tear -- they're too beautiful. They were meant to be looked at and admired and studied and ... Secondly, as Peter Guenther has mentioned in his own review, would you really want to cast your fortune using this particularly tarot deck?!

After working over a year on a single project, Daryl should be highly commended. Mythos fans haven't seen this much quality artwork in a long time. The Lovecraft Tarot is worth the price that it sells for and I highly recommend that you obtain a copy if you are interested in Mythos artwork.

It should be mentioned in passing that Daryl is not resting on his laurels, but has recently met with Thomas Ligotti to discuss a future project.

Click on the thumbnails below to see samples of these tarot cards (if you haven't already perused them in the artwork section).







Great Race
of Yith


Arkham


The Mountains
of Madness
RETURN TO TOP OF PAGE
---
DELTA GREEN, by Dennis Detwiller, Adam Scott Glancy, and John Tynes (with additional material by John H. Crowe III and Robert Maclaughlin). Illustrated by Toren G. Atkinson, Dennis Detwiller, HetherHudson, and John T. Snyder. Seattle: Pagan Publishing, 1996. vi, 298 pp. $27.95. ISBN 1-88797-08-4 (Pagan Publication # PAG1005).

[Reviewed by Edward P. Berglund]


This is a Call of Cthulhu RPG sourcebook that brings the Mythos into the 1990's. And it has been in production for a long time, since John Tynes originally introduced the Delta Green group back in 1992 in Pagan's magazine The Unspeakable Oath. It isn't just that they took their time in putting this sourcebook together, but they made it a labor of love -- it shows!

After opening the cover, with a great painting by Blair Reynolds, the authors don't just jump in whole hog. John Tynes gives you a complete overview of what you are about to experience. Tynes then gives an overview of the Mythos in the 90's, showing that the world-wide cults of the 1920's are no more, but the Fungi from Yuggoth are still around influencing events. After a brief overview of "Big Brother" -- including various conspiracy theories -- Adam Scott Glancy gives us a timeline for "Big Brother", from 1789 to 1996.

Now the stage is set to introduce: Delta Green. This unit is an illegal conspiracy within the federal governmet, with agents in all of the various intelligence agencies, working behind the scenes. The agents work in three-person cells. They know people in other cells, but only by their code names. In their day-to-day jobs they ferret out reports containing information of paranormal phenomena. A cell may be assigned to do further investigation, along with possibly recruiting someone who has the necessary expertise needed (if they are not all ready a Delta Green operative).

But Delta Green isn't operating in a vacuum. Opposing them at times are various groups with their own agendas, such as Majestic-12 (originated after the Roswell UFO crash and semi-sanctioned by the government), the Karotechia (Nazis striving to start the Fourth Reich), Saucerwatch (a civilian organization investigating UFO activity and dedicated to getting the Truth), and The Fate (an occult criminal syndicate in New York). And somewhere in there are the beasties from the Cthulhu Mythos (mustn't forget them, can we?).

Now that's just the first 135 pages of this massive tome. At times it is hard to tell where fact leaves off and fiction begins, this being the decade of the conspiracy theories. But the authors have done a remarkable job -- up to this point -- in providing a solid background for the Keeper who wants to inaugerate the Delta Green fabric into his campaigns.

But there is even more in the remainder of the book, of interest to not only the role players, but to the non-gamers alike. If you're not into gaming, but are into conspiracy theories, you couldn't go wrong with this book. It is a highly entertaining read all by itself. If you are not into gaming, but into the Cthulhu Mythos as a writer, and have been contemplating using some of the conspiracy theory material in your stories, you couldn't go too far wrong in utilizing this sourcebook, not so much for the first 135 pages, but the pages that follow: The Appendices.

The appendices consist of such sundry items as a bibliography that the authors utilized in writing this sourcebook, a glossary of slang and official terminology from law enforcement and intelligence agencies, an overview of the security classifications used by the government, and some "Mythos" tomes for the 1990's.

Then we have to go back the gaming side of the house. (What would a sourcebook be without scenarios utilizing the sourcebook's material?) "Puppet Shows and Shadow Plays" is a beginning scenario to introduce the players who are not members of Delta Green to this shadowy organization. There's even an option to involve Majestic-12. "Convergence" is a much more Mythos oriented scenario, as it involves the Fungi, but also brings in the "greys" from the UFO literature that abounds today. "The New Age" is a lengthy scenario (in two parts), intended to directly follow "Convergence," which could be considered a mini-campaign. It expounds upon the possible connection between the Fungi and the "greys."

The authors then continue the appendices with how to create a Delta Green investigator, an overview of all of the federal agencies responsible for investigations (would you believe the U.S. Postal Inspection Service is in there?), and a listing of modern firearms by John H. Crowe III, presumably from his massive sourcebook on firearms published by Pagan, but now out of print.

Whether you are a role player, a conspiracy enthusiast, or a Mythos fan, there is something in this sourcebook for you and, as such, it is highly recommended. It is a complete package within itself, but is easily moved into other arenas of gaming (non-Mythos conspiracy RPGs), conspiracies, and the Mythos (Pagan just published a fiction anthology entitled Delta Green: Alien Intelligence).

You may still be sort of undecided about buying this sourcebook, based primarily on its price. To get an idea of the wealth of material that is here and how it is being used, visit the Delta Green websites listed on our "Other Web Pages of Interest".



RETURN TO TOP OF PAGE
---
© 1998 Edward P. Berglund All reviews: © 1998 by their respective writers. All rights reserved.
Graphic © 1998 Old Arkham Graphics Design. All rights reserved. Email to: Corey T. Whitworth.

Created: April 10, 1998