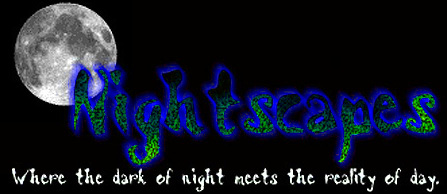 DECEMBER 1997


Volume 1, Number 5
| | | |
| --- | --- | --- |
| EDITOR | | ART DIRECTOR |
| Edward P. Berglund | | Corey T. Whitworth |

WELCOME TO ISSUE # 5 OF NIGHTSCAPES

To start off, we wish to extend our apologies to the writers -- and the readers! -- for our inability to provide our usual artistic renderings for the fiction -- more commonly known as title graphics. Due to personal circumstances beyond our control and time constraints, we were unable to bring you the title graphics, but they will return next issue.


Our present issue gives you eight original storis, five poems, two parodic poems, a special reprint of a book review, and three nonfiction pieces. I purposely listed the nonfiction pieces last, so that I may make the following comments.


On October 26, 1997, Edward Phlager posted an announcement that his web site, The House of Cthulhu was now online. It was devoted to the Cthulhu Mythos stories of Brian Lumley. After checking out his web site, I requested permission from Edward to place a link on my pages to his web site. Edward replied: "Thanks for the observation on my Lumley site. Yours was the only civil email I have gotten in the last 24 hours. Unfortunately, I am taking down the site because of the volume of nasty email I have received. (I'm pretty thin-skinned I guess)."


After receiving his email, I tried pulling his web site up so that I could download the pages, but all I found was the following (originally all in capitals):


"Well, we have what I assume is a new world's record for shortest time up for a web site. My Brian Lumley Mythos page is now down for good. After 24 hours of being officially up, I have a mailbox stuffed full of nasty email. My favorites are the one from the person who hides behind some stupid handle, doesn't even have the nerve to use their real name, and spouts profanity at me about how bad Lumley's books are, to the guy who wants me to pay him for the scans I did. (Hm, whats wrong with that picture?)


"Well, that's it. Don't try to contact me, I am pulling the plug on my online presence. I am sick of all the whiners and complainers who seem to now infest every part of the Internet. Global community my .......!"


Edward has a real valid point. The World Wide Web is supposed to be a global community where almost everyone espouses freedom of speech. Now, I am a fan of Brian Lumley's Cthulhu Mythos work -- some I like better than others. And it was nice to find a web site devoted to Lumley that didn't talk about his other work (not that it isn't any good -- I've enjoyed it as well). But for the critics of Lumley's work who don't like it, why in hell go to a web site that is devoted to Lumley, write what amounts basically as hate email to the creator of the web site, getting the web site pulled and ruining it for those of us who like Lumley's work? I deem this as being very unconscionable and also somewhat cowardly. If all of these detractors from Lumley's work are so all-knowing, how about them showing us Lumley fans that they can do better than Lumley. 'Nuff said.


I apologize for preaching to the choir! (You know who you are.) I would like to say that we have lost some quality work on Lovecraft and the Cthulhu Mythos when we lost Edward Phlager. To see an example of his devotion to Lovecraft and the Cthulhu Mythos go to the Berkeley site and download the Cthulhu Mythos Bibliography Database Version 3.7 (if he hasn't deleted it from Berkeley's server). Although he utilized Chris Jarocha-Ernst's bibliography from 1992, it was still a labor of love in building the database for this program. I only had the one contact with Edward, but he will be missed in Lovecraft fandom on the Internet.


Ah! I mentioned something about the nonfiction pieces above and never got around to my point. The point is we have reprinted an interview with Brian Lumley from Crypt of Cthulhu # 19 and also have a new essay on Lumley's Mythos work by Robert M. Price.


SUBMISSIONS


Nightscapes is an electronic magazine that is devoted to the Cthulhu Mythos of H.P. Lovecraft and all those creators who have followed. We hope to entertain you with fiction, artwork, poetry, and whatever else happens to come our way, whatever guise it may be in, as long as it deals with the Cthulhu Mythos.


We will always need the help of you, the reader and/or creator, for without you, we do not have a magazine. If you are a writer, artist, gamer, what-have-you, let us showcase your creations. All we ask is that whatever you submit, that it not have appeared on the Internet before now. (Of course, after the issue goes online, all rights are returned to the contributors. They can then put it online on their own web site or submit it to a print media publication.) We will be using one reprint story per issue, but this will be from the print media. If you are a reader, and you know of a story that appeared in the fanzines of the late 70's/early 80's that you think is worth reprinting, let us know. We'll try and get in contact with the author to get his permission to reprint it. Contact us at Nightscapes.


For the fan of H.P. Lovecraft's Cthulhu Mythos, there is never enough new stories. And a Mythos story doesn't have to be entirely in the Lovecraft mode. We have seen Mythos stories written as science fiction, fantasies, mysteries, westerns, and even romance tales. Whatever the genré, we hope you, the creators, will let us present your work to the readers under the Nightscapes banner! If you are not sure your creation is good enough, submit it and let us decide!




© 1997 Edward P. Berglund
| | |
| --- | --- |
| | Nightscapes graphics © 1997 Old Arkham Graphics Design. All rights reserved. Email to: Corey T. Whitworth. |
Created: December 2, 1997; Current Update: August 9, 2004