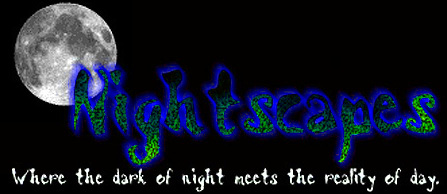 OCTOBER 1997


Volume 1, Number 4
| | | |
| --- | --- | --- |
| EDITOR | | ART DIRECTOR |
| Edward P. Berglund | | Corey T. Whitworth |

WELCOME TO ISSUE # 4 OF NIGHTSCAPES

This fourth issue of Nightscapes is a landmark issue of sorts. The very first publication I edited, the amateur magazine (or fanzine) From Beyond the Dark Gateway appeared with a cover date of April/May 1972 from the Silver Scarab Press. The second and third issues followed in 1973 and 1974. The fourth and last issue did not appear until October of 1977! Nominally, FBTDG ran 35,000 words per issue and it wasn't all Cthulhu Mythos fiction.


So here we are with the fourth issue of NS, twenty years to the month since the last issue of FBTDG. And NS nominally runs 50,000 words of all Cthulhu Mythos fiction.


But on to our present issue. Besides four new Cthulhu Mythos stories, a nonfiction piece on everyone's favorite Arab, and four new poems, we are also proud to present "An HPL Sampler." Actually, this is not only a sampler of that seminal publication from 1972, but also a sampler of the work of Meade Frierson III, one of its editors. I hope you enjoy this nostalgic romp back twenty-five years in time!


SUBMISSIONS


Nightscapes is an electronic magazine that is devoted to the Cthulhu Mythos of H.P. Lovecraft and all those creators who have followed. We hope to entertain you with fiction, artwork, poetry, and whatever else happens to come our way, whatever guise it may be in, as long as it deals with the Cthulhu Mythos.


We will always need the help of you, the reader and/or creator, for without you, we do not have a magazine. If you are a writer, artist, gamer, what-have-you, let us showcase your creations. All we ask is that whatever you submit, that it not have appeared on the Internet before now. (Of course, after the issue goes online, all rights are returned to the contributors. They can then put it online on their own web site or submit it to a print media publication.) We will be using one reprint story per issue, but this will be from the print media. If you are a reader, and you know of a story that appeared in the fanzines of the late 70's/early 80's that you think is worth reprinting, let us know. We'll try and get in contact with the author to get his permission to reprint it. Contact us at Nightscapes.


For the fan of H.P. Lovecraft's Cthulhu Mythos, there is never enough new stories. And a Mythos story doesn't have to be entirely in the Lovecraft mode. We have seen Mythos stories written as science fiction, fantasies, mysteries, westerns, and even romance tales. Whatever the genré, we hope you, the creators, will let us present your work to the readers under the Nightscapes banner! If you are not sure your creation is good enough, submit it and let us decide!








© 1997 Edward P. Berglund HPL cover illustration, "The Haunter of the Dark" by Robert Kline; © 1972 Meade and Penny Frierson. All rights reserved. Email to: Meade Frierson III

| | |
| --- | --- |
| | Nightscapes graphics © 1997 Old Arkham Graphics Design. All rights reserved. Email to: Corey T. Whitworth. |
Created: October 21, 1997; Current Update: August 9, 2004