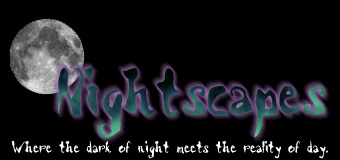 WELCOME TO THE FIRST ISSUE OF NIGHTSCAPES

by Ricardo Madeira


Sometimes it is best if we are totally ignorant!

by James Ambuehl


Even with success may come defeat.

by Peter A. Worthy


What goes around comes around.

by Ian Davey


Some days are worse than others.

THE RING OF THE DEMON GOD


by


Robert Weinberg


Some possessions you shouldn't get rid of!

© 1997 Edward P. Berglund Graphics © 1997 Old Arkham Graphics Design. All rights reserved. Email to: Corey T. Whitworth.

Created: June 27, 1997; Current Update: August 9, 2004